OOC: first lesson - for continuity purposes, "OOC" means "Out of character" and after posting an "OOC" please type "IC" (in character) so that we know when your character is talking and when you're talking.
second lesson - for "play well with others" purposes, only post what you do and say. It can get frustrating for both you and other characters when you write what the other person is doing. The term for this is "godmodding" - not to be confused with "godmoding" which is to not only control what the other person does, but to control your affect on the entire universe.
lesson four - For the purposes of keeping us all on the same page, whomever is in charge of the story, aka the admin, will more or less be the dungeon master, writing the universe's reaction to things. For your convenience, I will be posting the narrative in a different color from my character.
And yes, I am aware that I skipped lesson three. I'm not exactly sure why...
IC: You find yourself in a large room with a domed window. Something like this: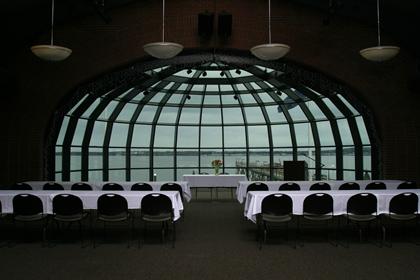 Outside you have a lovely view of the Caribbean. The trouble is, you're not alone.
Reginard watched her intently. He'd been perched on a table for some time and, now that she'd finally entered the room, he wondered how long it would take her to ask what exactly was going on. Furthermore, he wondered how long it would take her to get frustrated and demand that he remove his mask. It always happened, eventually. Sometimes sooner, sometimes later, but it always happened. He smiled at that thought and waited, trying not to snicker.
Imagine this guy:
with this mask: